Hambar
(Heavily inspired from a recipe in the book "Forretter & frokostretter fra Brugsen", to which we owe a great debt of gratitude)
It is especially well suited as a first course or for a light lunch meal - or maybe a midnight snack ?

Ingredients (for app. 6 persons):
(The amounts might be varied according to individual taste).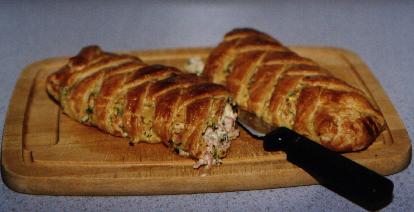 500 g of mushrooms
200 g of ham strips or cubes
175 g of cheese spread, e.g. cheese spread with herbs
3 teaspoonfull of sweet french mustard
1 teaspoonfull of salt
1 bunch of chives
1 bunch of parsley
4-5 plates of puff pastry
1 egg.

Cut the mushrooms into pieces and fry them for app. 5 minutes on a dry and hot pan.
Put the ham strips in a bowl with the mushrooms, the cheese spread, the mustard, the salt and the cutted chives and parsley. Stir it all.
The puff pastry plates are placed next to each other with an overlap of app. 1 cm. Roll them to a plate of app. 25 cm x 40 cm. Place the plate on a suited piece of baking paper or directly on a baking sheet. Mark it in the long way direction in app. 3 equal areas.
Place the stuffing on the center third. Cut the sides of the plate slightly backwards in app. 1.5 cm stripes.
Fold in the end pieces, and bend the cutted stripes over each other, changing left and right. Glaze the bar with the egg, after having stirred it lightly.

If you placed the bar on baking paper, carefully lift it to the baking sheet. Place it in the oven at app. 200 °C (hot air oven) for app. 35 minutes.



Return to main page